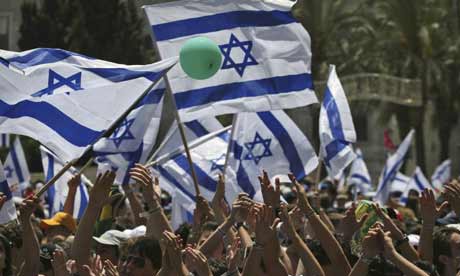 "Just as anti-Zionism and anti-Semitism are on the march around the world - even receiving aid and comfort from American Jews - along comes word that more Jews now live in Israel than in any other country, including the United States. This demographic milestone leaves the fight for Jewish well-being where it was always meant to belong. Jews living in a Jewish state with Arab and Muslim enemies staring them in the face no longer have the luxury of putting their trust in Pollyannaish "peace" illusions that have already been proven disastrously wrong. Nothing cures wishful thinking like a strong dose of reality (some Jews need two or three). And that goes double when a powerful Jewish army has your back. Given the leftward lurch by "leaders" of American Jewry who have commandeered Jewish communal organizations and Jewish communal money, the timing for Israel to fill that void could not be better." - Dan Friedman
Source:
Breitbart
By William Bigelow
Submitted by Dan Friedman, NYC
For the first time, there are more Jews living in Israel than in America, making the Jewish state the home of the largest Jewish population in the world. There are 6 million Jews in Israel and 5.5 million in America, 2 million of whom live in New York. Roughly 500,000 Jews live in France and almost 300,000 live in the United Kingdom.
Among the 8 million residents of Israel, there are 1.6 million Arabs and 350,000 non-Arab Christians or other groups.
The number six million has obvious significance to Jews the world over, since six million Jews were murdered in the Holocaust. But for the first time in thousands of years, it can legitimately be claimed that a plurality of Jews live in Israel -- and if demographic trends continue, Jews in Israel will soon constitute a majority of Jews on the planet.