Source: Arutz Sheva
By Gil Ronen
Egypt informed Israel Sunday afternoon that it is unilaterally cancelling the agreement of supply of gas to Israel. The announcement was made to EMG, the firm that receives the gas from Egypt, and reported on Channel 2 news.
The peace treaty with Egypt includes a financial appendix, in which Egypt agrees to supply Israel with oil. Several years ago the appendix was changed so that the oil was replaced by gas. The treaty commits Egypt to supply Israel with the amount of gas it requires for a specified period, in exchange for payment.
Egypt's unilateral abrogation of the treaty causes "tremendous financial damage" to Israel, and to the Amgas and Ampal companies, according to Channel 2. However, the primary damage is diplomatic, reporter Amnon Abramovich said.
The pipeline carrying gas from Egypt to Israel was blown up 14 times since the Mubarak regime was toppled in February 2011.
__________________________
Military chief: Israel increases covert operations
Source: Phillyburbs
Israel's military chief of staff says he has ordered his forces to step up covert operations in enemy countries.
Maj. Gen. Benny Gantz made the remarks Sunday in an interview published in Israel's Yediot Ahronot daily.
"You almost won't find a point in time where something isn't happening somewhere in the world," he said. "I am escalating all those special operations."
Gantz did not identify any of the countries or give any further details.
He said 2012 is a critical year in the standoff between Israel and Iran over Tehran's nuclear program.
Israel and much of the West believe Iran is close to nuclear weapons capability. Israel has hinted it may strike Iran if diplomacy and sanctions fail to halt its nuclear program.
_________________________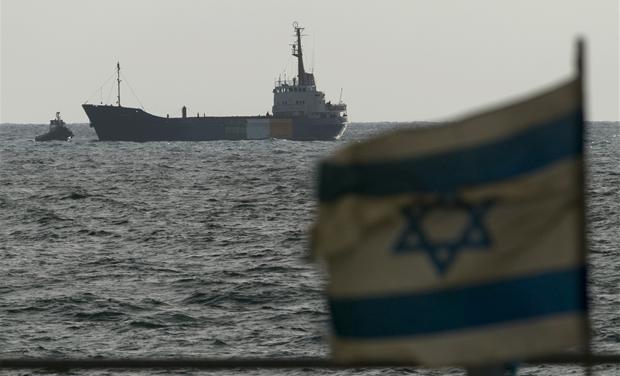 Israel's naval blockade


Israel intercepts ship for security check-official
Source: Reuters
Israeli naval forces intercepted a cargo ship in the Mediterranean on Sunday and troops have boarded the vessel for a "security check", military sources said.
Israel routinely patrols the seas for ships suspected of carrying weapons destined for Palestinian militants. A year ago Israel seized a cargo ship it said held Iranian-supplied arms intended for the Hamas-ruled Gaza Strip.
The official said so far "nothing outstanding has been found" on the ship, and declined to provide details, describing the interception as "routine protection of our territorial waters".
An Israeli military source said the ship was seized about 160 miles (260 km) off the Israeli coast, and that troops were conducting a "very thorough search of its cargo".
In the earlier searborne interception in March 2011, Israel said the vessel it seized had set sail from Syria, had stopped in Turkey and had been destined for Alexandria in Egypt.
Palestinians use a network of tunnels to smuggle weapons into Gaza from Egypt. Palestinian militants in Gaza often fire rockets at Israel and say it is in response to Israeli raids in their coastal territory.
(Writing by Allyn Fisher-Ilan; Editing by Michael Roddy)