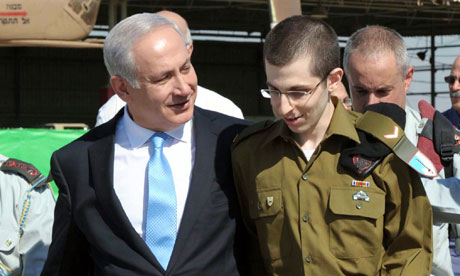 In line with tradition, Netanyahu used Shalit return as means to promote himself
At the end of the day, in Benjamin Netanyahu's view Gilad Shalit is no different than the cockpit of a firefighting plane or a Shabbat candle-lighting ceremony with Madonna. Netanyahu believes that in such events he is the star, while the actual reason for the event merely serves as a superb setting for emphasizing his importance, efforts, achievements and the need to have him as prime minister.
These artificial shows and cameras are there for the sake of securing his next term in office, whether they are necessary or not. Netanyahu is always looking forward, while never appearing next to the failures, disasters and failed efforts, in which the prime minister also played a significant role.
Yet with Netanyahu there is only positive news, and only Bibi is the hero, standing there in the middle of the frame, dominating the entire picture. Regrettably, this is the political agenda dictated to the citizens by the Prime Minister's Office.
The assumption is that we remember precisely what they want to show us, without asking too many questions. Nonetheless, we should be asking – even if this is done amid the immense joy over Gilad Shalit's return home – wasn't it possible to produce an event that would be a little less circus-like, pompous and impassioned than what we were presented with courtesy of the PM's Office and IDF spokesman? Wasn't all of this just as forced and nauseating as the delusional interview Shalit was forced to grant the Egyptian television newswoman?
No shame
After all, Gilad Shalit is not a war hero returning home, and there was no actual need (with the exception of the need to produce a grand show) for the prime minister to accompany him from the helicopter to his parents. Any IDF officer could have done it just as well, and in a manner that would provoke less embarrassment and exhaustion in the young, shy and gaunt man who was overwhelmed by excitement at those moments.
You know what? It was even possible to allow his father, mother and siblings to meet him near the helicopter. They too would have certainly been capable of walking him to the room where they were finally alone, without cameras and noise.
Apparently, when one becomes a prime minister he must lose quite a bit of shame, manners, and respect for others. And so, Netanyahu took the liberty to be the first person who welcomes Gilad at Tel Nof Air, and also arrogantly pushed himself into the first photo of Noam Shalit hugging his son; you can be certain that the photographer was instructed to include the prime minister in that frame.
Like an observer from above, smiling from ear to ear, Netanyahu is again a hero. Gilad Shalit is already a minor detail in that photo: We can only see his back in this first photograph.
Another photo, where Shalit salutes the prime minister, symbolizes in my view both Gilad's good manners and the bad taste of the Prime Minister's Office. This photograph, which for Netanyahu's office and IDF spokesman marked the zenith of the event, was no more than the pinnacle of needless kitsch in this grand production.
At the end of this production, one would hope, all the cameras will disappear, all the reporters and commentators will grow silent, and Gilad Shalit and his family will finally be able to breathe.