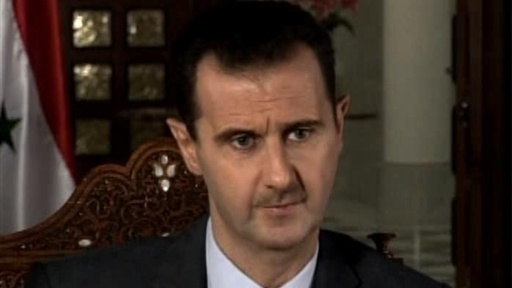 Syrian President Bashar Assad on Tuesday threatened to set fire to the Middle East, and especially to Israel, if NATO attacks Syria, the Iranian Fars news agency reported.
In a meeting with Turkish Foreign Minister Ahmet Davutoglu, Assad said: "If a crazy measure is taken against Damascus, I will need not more than six hours to transfer hundreds of rockets and missiles to the Golan Heights to fire them at Tel Aviv."
Davutoglu reportedly conveyed a message of warning from the US to Assad. The Iranian report has not been verified by other sources.
According to the Fars news agency, the Syrian president stressed that Damascus will also call on Hezbollah in Lebanon to launch a fierce rocket and missile attack on Israel, one that Israeli intelligence could never imagine.
"All these events will happen in three hours, but in the second three hours, Iran will attack US warships in the Persian Gulf as American and European interests will be targeted simultaneously," Assad reportedly said.
-------------------------------------------------------------------------------------------------------------------------
The government sent a message to Syrian President Bashar Assad in recent days, warning him that if he started a war with the Jewish state in order to divert attention from domestic problems, Israel will target him personally, Kuwaiti newspaper Al-Jarida reported on Tuesday.
According to the report, the personal warning was sent through Turkey following intelligence reports of unusual Syrian troop movements, including the moving of long-range ballistic missiles that could be used to attack Israel.
The report added that the IDF has increased its preparedness on the northern border out of fear that Hezbollah may try to again kidnap soldiers or civilians along the Lebanese border.
Last month, following deadly attempts to breach the Golan border, US-based Syria experts accused the Assad regime of being behind the Naksa Day protests on the border in order to distract from the uprising challenging Syria's rulers.
On Wednesday, violence in Syria continued as troops shot dead four villagers, an activist said. Authorities pressed on with a tank-led assault that has already driven thousands of refugees into Turkey.
"The four died in random firing on the village of Rama from tank machine guns, which has become customary in these unjustified assaults. The tanks started firing on surrounding woods, then directed their fire on the village," Ammar Qarabi, president of the Syrian National Human Rights Organization, told Reuters from exile in Cairo.
The assault on Jabal al- Zawya, a region 35 km. south of Turkey that has seen spreading protests against Assad's 11-year rule was launched overnight, a day after the authorities said they would invite opponents to talks on July 10 to set a framework for a dialogue promised by the Syrian president.
Opposition leaders have dismissed the offer, saying it is not credible while mass killings and arrests continue. The Local Coordination Committees, a main activists' group, said in a statement on Wednesday that 1,000 people have been arrested arbitrarily across Syria over the past week alone.
"Jabal al-Zawya was one of the first regions in Syria where people took to street demanding the downfall of the regime. The military attacks have now reached them and they will likely result in more killings and in more refugees to Turkey," said Qarabi, who is from the northwestern province of Idlib.
He said he based his information on several witnesses' testimony.
A resident of Jabal al-Zawya said he heard heavy explosions overnight around the villages of Rama and Orum al- Joz, west of the highway linking the cities of Hama and Aleppo.
"My relatives there say the shelling is random and that dozens of people have been arrested," he said.
Another local said 30 tanks went to Jabal al-Zawya on Monday from the village of Bdama on the Turkish border, where troops broke into houses and burned crops.