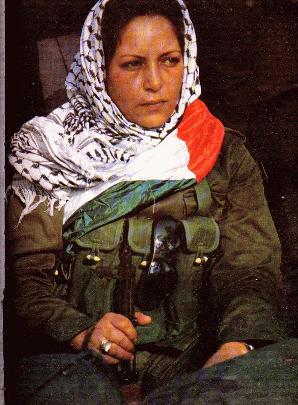 "Twelve men, led by a woman called Dalal Al-Mughrabi, managed to establish the State of Palestine, after the whole world had denied them their right to do so," declared Al-Jazeera TV host Ghassan Bin-Jiddo in a 2008 retrospective of the four-hour 'State of Palestine' in 1978.
"They turned a bus en route from Haifa to Tel Aviv, into a temporary capital of the State of Palestine. They raised the white, red, and black flag at the front of the bus, singing, shouting, and dancing like children on a school trip. When the Zionist forces surrounded them - with the help of helicopters - and wanted to storm the bus, they blew up the bus with themselves inside."
Not just themselves, unfortuanately.
Bin-Jiddo neglected to mention, even in passing, the 12 children and 25 adults Al-Mughrabi and her comrades murdered in cold blood on March 11, 1978. They shot an American photographer named Gail Rubin, carjacked a taxi, murdered the driver and his passengers, shot at traffic on the highway, hijacked two buses, and ultimately blew up the last bus - with all passengers aboard.
"For the first time in the history of revolutions, a passenger bus became a fully sovereign independent republic for four hours," Bin-Jiddo gushed. "It does not matter how long this Palestinian republic lasted. The only thing that matters is that this republic was established, and that its first president was Dalal Al-Mughrabi."
An article published in the July 10 edition of the Palestinian Authority's Al-Hayat Al-Jadeeda daily newspaper called Al-Mughrabi "a living legend and a wonderful example for all women." She deserved to be buried next to Yasser Arafat in Ramallah, the article said.
Why all this focus on Al-Mughrabi this month? Because her body was among the 190 bodies transferred to the Hizbullah in Lebanon last week, as part of the ransom for the bodies of IDF soldiers Eldad Regev and Ehud Goldwasser.
Al-Mughrabi is clearly an Arab hero. Just like the child-killer Samir Kuntar, who smashed a four-year-old girl's head between a rock and the stock of his rifle. Kuntar was given a grand welcome in Beirut, and Al-Mughrabi has a girls' school in Hevron, Arab children's summer camps and PA militia training seminars named after her.
In view of all this, I am forced to agree with Bin-Jiddo. Al-Mughrabi's State of Palestine perfectly foreshadows the character of any potential State of Palestine today.
Her State of Palestine was not a vehicle for attaining national aspirations or freedom; it was a vehicle of terrorism.
Al-Mughrabi's State of Palestine, as it has been endlessly praised in the Arab world, was based on hijacking Israeli property, hostage-taking, terrorizing and murdering innocents, especially Jews, the celebration of indiscriminate death and destruction, and ultimately self-annihilation. Her State of Palestine was not a vehicle for attaining national aspirations or freedom; it was a vehicle of terrorism, murder and wanton destruction. It was a vehicle for killing anything Jewish, as much as was possible given the tools and time the "President" of that State of Palestine had at her disposal.
But don't take my word for it.
In December of 2001, Fatah published an editorial marking the 37th anniversary of its first terrorist act (on January 1, the group claimed credit for a December attack). In that communique, Fatah (currently headed by Palestinian Authority Chairman Mahmoud Abbas and presented as a "moderate" alternative) explained what it is fighting for - a Palestinian State. And according to their celebratory 2001 editorial, Fatah "believes that a legitimate Palestinian entity forms the most important weapon that Arabs have against Israel, the outpost of the imperialist powers."
In other words, any conceivable current State of Palestine will be nothing but Dalal Al-Mughrabi's "State of Palestine" writ large.