All opinions expressed on this weblog are those of the author, with the exception of opinions expressed in links that appear on this site and with the exception of comments written by viewers whose opinions may not necessarily reflect the author's. All original material is copyrighted and property of the author, and is not to be used without permission, unless it is attributed to this weblog (with a hyperlink to
http://israeli-frontline.com/
, or to the particular article shown in this weblog). All emails and messages containing public news and information are presumed to be for publication on this site, unless otherwise specified. I reserve the right to delete comments that I find to be offensive in nature, inappropriate or irrelevant to the content of this weblog. Michelle Cohen, Creator of ISRAELI FRONTLINE-----------------------------------------------© 2010 - 2013 ISRAELI FRONTLINE - All Rights Reserved.

Today's Top Headlines, Videos, Analysis and Opinion
/ / HOME PAGE

Monday, July 18, 2011
Does the new anti-boycott law harm free speech?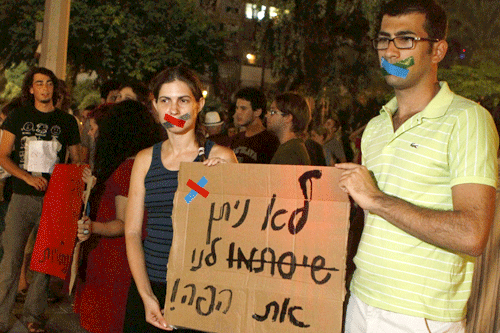 Translation: (Leftists): "We will not be silenced"
Today's champions of free speech are
yesterday's
censors.