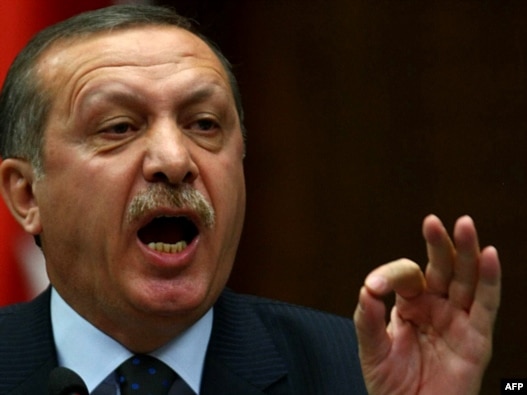 Erdogan ought to apologise to Israel for allowing the flotilla shenanigan to take place.

Turkish premier stresses again his country's aid to Israel as it battled Carmel blaze stemmed only from humanitarian motives, Islamic duty
Turkish Prime Minister Recep Tayyip Erdogan stressed Sunday that the aid sent from Turkey to Israel following the Carmel fire disaster does not signify an improvement in relations between the two countries.


However, in an unprecedented statement since

May's flotilla raid

the Turksih premier said that "one day we shall turn the page."




According to a report by Turkish news agency Anatolia Erdogan said that the relationship with Israel will not improve until the Jewish state "cleans" the blood of the victims. He repeated Ankara's list of demands to Israel before ties can be rebuilt: Compensation to the victims' families and an official apology.




"One day we shall turn the page but first Israel needs to apologize and provide compensation," Erdogan said.




He explained his country's willingness to send aid to Israel at its time of need. "If a hand is reached out we do not ignore it…but we must ensure the hand is being reached in earnest."




He added: "No one can expect us to sit silent and abandon law and reason while the blood being spilled in the Middle East remains unwashed." Ergodan stressed that the aid provided to Israel by Turkey was sent out of humanitarian reasons and Islamic duty.


Hours after the Carmel blaze broke out last Thursday Turkey sent Israel two helicopters to help it fight the flames. Prime Minister Benjamin Netanyahu

thanked

Erdogan for Turkey's assistance as they spoke on the phone and expressed hope that the step will help the nations rebuild their relationship.




However, the Turkish premier was

quick to clarify

over the weekend that the aid was sent for humanitarian motives only and that it has nothing to do with the diplomatic relations between the two countries.