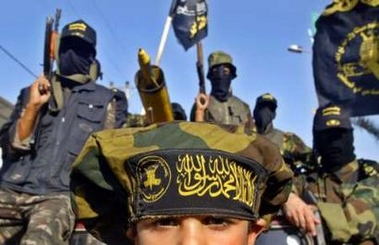 By Michelle Cohen
Israelis must awaken to the reality that this war has nothing to do with land. This war has to do with jihad, the radical Islamic struggle for global domination. Located in the heart of the Islamic world, Israel is simply in the way of the great radical Islamic conquest. Therefore, giving away Israeli land, particularly Jerusalem, would serve no purpose in resolving this so-called "conflict."
Arabs living in Gaza are not being "rescued" by any Islamic country and only have armchair warriors sitting in front of their computers fighting on their behalf. This clearly indicates that Arabs living in Gaza and in Judea and Samaria are being strategically used as leverage for global sympathy with the hope to advance the radical Islamic agenda of global domination. As it stands right now, Islam is gaining momentum in its efforts to turn the world against Israel. However, people and groups such as Walid Shoebat, Zachariah Anani, Wafa Sultan, Sir Salman Rushdie, Dr. Tawkif Hamid, Brigitte Gabriel, Nonie Darwish, (all Arabs, by the way) Geert Wilders, Pat Condell, Pierre Rehov, Daniel Pipes the staff of Jihad Watch, Honest Reporting, Live Leak and Citizen Warrior are only a precious few who are working diligently to warn the world of radical Islam's true intentions. It is only a matter of time before the world will awaken to this reality and the wheels will turn against radical Islam. It is not surprising that Europeans will be more easily persuaded considering they are suffering a grave radical Islamic invasion. Many have already expressed great regret for ever allowing radical Muslims to migrate to their countries.
"Land for peace" is not a solution that will benefit Israel in any way. It will only benefit radical Islam in its goal for the destruction of Israel, and it will only show radical Islam that Israel is weak and prepared to give in to the demands of an unwavering desire for conquest. We must learn that radical Muslims do not want only Gaza and Judea and Samaria but rather the entire state of Israel. They want to call it "Palestine" and they will not settle for anything less. This is precisely why they have turned down all peace talks and make demands that are impossible to cater to.
If Israeli's convictions are that the heart and soul of Judaism are imbedded in the Holy Land of Israel, then it is imperative that their convictions ought to remain unwavering as well.
Those who want to live in peace side by side with Israel are already doing so. They are called Israeli Arabs and they are already citizens. Those who want peace are not those who make decisions but rather those who are forced to submit to Islamic radicalism. It will never work because passive people do not generally rule. We must learn to stop seeing this situation as an Israeli problem and start recognising it for what it really is. It is a global situation in which we find ourselves fighting against the evil forces of radical Islam. We are all in this together.