More talk about "peace talks" with people who want no peace
Clinton to meet Binyamin Netanyahu and Mahmoud Abbas in Egypt for talks amid tensions over settlements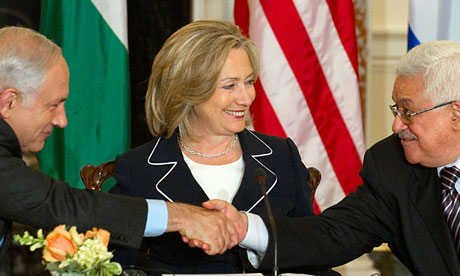 Israeli Prime Minister Binyamin Netanyahu (left) and President Mahmoud Abbas of the Palestinian Authority during recent peace talks in Washington Photograph: Saul Loeb/AFP/Getty Images
Middle East peace talks resume this week under the guidance of Hillary Clinton, amid growing tensions between all the parties over Jewish settlements on the West Bank.
The Palestinians have warned that a renewal of Israeli construction would spell the end of the talks, which resumed recently after a 20-month hiatus. But Netanyahu said yesterday that the current building restrictions, which are due to expire in two weeks, would not remain in place, although there will still be some limits on construction.
Obama said on Friday that he had urged Netanyahu to extend the partial moratorium as long as talks were making progress. He also said he had told Abbas that if he showed he was serious about negotiating, it would give Netanyahu room for manoeuvre on the settlement issue. Abbas knew "the window for creating a Palestinian state is closing", Obama said.
Clinton's task, Obama said, was to get the Israeli and Palestinian leaders to "start thinking about how can they help the other succeed, as opposed to how do they figure out a way for the other to fail."
Clinton said there was a "certain momentum" for talks after an initial round in Washington on 2 September, which marked the first direct Israeli-Palestinian talks for nearly two years.
At the Council on Foreign Relations, Clinton was asked why those who saw little chance of reaching a settlement within Obama's one-year deadline were wrong. "I think they're wrong because I think that both sides and both leaders recognise that there may not ever be another chance," she replied.
Time is a motivating factor for the Israelis, too. Some Israelis believe the longer that Israel occupies the West Bank and its growing Arab population, the more Israel's future as a Jewish state is imperiled.